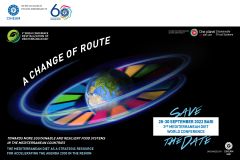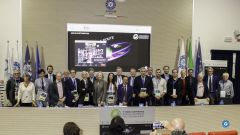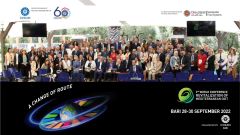 To celebrate the 60th Anniversary of the International Center for Advanced Mediterranean Agronomic Studies (CIHEAM), the Third World Conference on the Revitalization of the Mediterranean Diet, entitled "Change of Route Towards More Sustainable and Resilient Food Systems in Mediterranean Countries: the Mediterranean Diet as a Strategic Resource to Accelerate the Agenda 2030 in the Region" will be organized on 28-30 September 2022, at the Cosimo Lacirignola Campus, CIHEAM-Bari Institute, in Valenzano, Bari
Thursday , 28 September, 6PM: WEBINAR SIDE EVENT
COLLECTIVE CATERING AS A CULTURAL TOOL TO PROMOTE THE MEDITERRANEAN DIET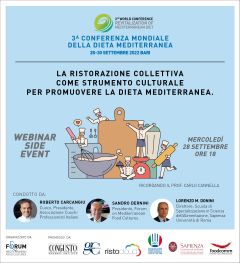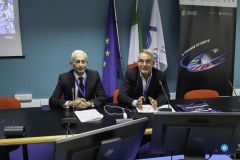 Objective: To promote the multiple benefits of the sustainability of the Mediterranean diet, through the development of a joint research project on collective catering, open to all interested partners, in which collective catering, supported by a communication campaign associated with the regional cuisine of the diet Mediterranean.
The collective catering has assumed a preponderant role with the increasing tendency to eat away from home for business reasons and for pleasure. Collective catering operates along all entire agri-food chains and affects significantly them. The Agri-food chains system has a significant impact on all dimensions of food sustainability (environmental, socio-cultural, economic and nutritional-healthy).
The opinion of users regarding collective catering (especially institutional) is substantially negative. Upon entering the hospital, one expects to eat poorly and some dishes (puree, soups, ...) are negatively associated with being sick.
Collective catering (corporate, school, hospital, inter-company, etc.) can be enhanced as an instrument of "education" since it is increasingly latent in the family for socio-cultural reasons.
Collective catering, starting from the artisanal catering, starting from artisanal catering that bases its success and knowledge on manual skills and transformation, can play a decisive role as an educational tool by encouraging users to have a more "biologically" correct eating behavior, such as the Mediterranean diet, even and above all, inside and outside the collective catering system itself.
The Mediterranean diet has less impact on the environment and reduces the incidence of chronic degenerative diseases (nutritional-healthy sustainability) and enhances local gastronomic cultures and local products (socio-cultural and cultural sustainability).
Collective catering can make a significant contribution to improving the sustainability of the Mediterranean diet as well as of the Italian agri-food chains system.
If before the "canteen" was a place of necessity between a decent meal and another in the family, now it must increasingly become a place for training in the taste and value of food, as a sustainable healthy lifestyle. which at the same time improves the quality of life (well-being) of the individual, the community and the planet..
The communication campaign will have the aim to promote the collective catering from a simple service provider to a cultural tool for education and training, through a better knowledge and appreciation of the taste and the quality of local food products, their innovation and linkages with territories, their traceability and the reduction of food waste, associated with the cuisine of the Mediterranean Diet and respect for the value of food.
The side-event in the format of a webinar is made within the framework of the agreement between Plexus International Forum Onlus and CIHEAM-Bari.