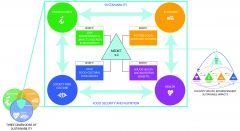 The new Med Diet 4.0 is as a new comprehensive multidimensional framework for the Mediterranean diet as a sustainable diet with multiplex sustainable benefits and country specific territorial variations. In the Med Diet 4.0 framework the well-documented health and nutrition mayor benefits of the Mediterranean diet are incorporated with three additional sustainable environmental, socio-cultural and economic benefits: low environmental impacts and rich in biodiversity, high socio-cultural food values, and positive economic local returns.
Dernini, S., EM Berry EM., Serra-Majem L., La Vecchia C., Capone R., Medina FX., J Aranceta-Bartrina J., Belahsen R., Burlingame B., Calabrese G., Corella1 D., Donini LM., Lairon D., Meybeck M., AG Pekcan AG., Piscopo S., Yngve A., and Trichopoulou, A. "Med Diet 4.0: the Mediterranean diet with four sustainable benefits"
Public Health Nutr.Public health nutrition, 2017, 20.7: 1322-1330.