IFMED – INTERNATIONAL FOUNDATION OF MEDITERRANEAN DIET:
THE NEW SCIENTIFIC AND INTERNATIONAL GUARANTOR
has been presented at the 3rd World Congress on Public Health Nutrition at Las Palmas on 12 November 2014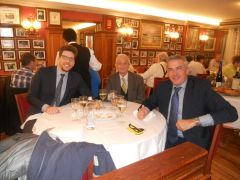 Lluis Serra Majem, President
Sandro Dernini, Secretary-General
Emmanuel Pauze, Executive Director
"There is a need for a new interdisciplinary and intercultural rethinking for the revitalization of the Mediterranean Diet – says Sandro Dernini, general secretary of IFMeD -. Therefore, IFMeD can be the ideal international place for promoting this change by acting to reconstruct a sustainable food cultural context for the Med Diet, more suitable to the current times and for all people".
Milan, 27 October 2014 – The Mediterranean Diet has a new pole of multi-disciplinary knowledge and expertise, internationally recognized, it is IFMeD – International Foundation of Mediterranean Diet.
Within the complex contemporary reality of increased unsustainable and unhealthy dietary patterns in the world, the Foundation is born in response to the need to have a trans-national scientific guarantor, above local and national interests.